The new bicycle/pedestrian bridge over highway 101 opened on November 20, 2021 (Photo by Lloyd Lee), with a jubilant, congratulatory opening ceremony. Plus, ice cream was served. The 12 foot wide crossing has gentle slopes and serves pedestrians and bicyclists of all ages and abilities. The lookout over the Palo Alto Baylands to the East Bay hills is a pleasant rest, away from freeway noise. It replaces the seasonal underpass with a year-round connection, including a trail link along Adobe Creek to allow access from the low-stress Palo Alto bike network on East Meadow Drive.
The bridge was funded by the City of Palo Alto, including grants from the County of Santa Clara's Stanford Recreation Mitigation Fund ($5.5M), the CalTrans One Bay Area Grant program ($4.85M), and Google ($1M). Total costs were about $15M for construction, and $23M for the total project, including internal and external costs.
Here is a link to the city page about the opening and a Palo Alto Online article.
For a virtual ride across the bridge, here is a video made by David Coale.
Also new, is a Palo Alto Bike Map, showing low-stress routes all over Palo Alto. It is based on the existing Walk & Roll map routes.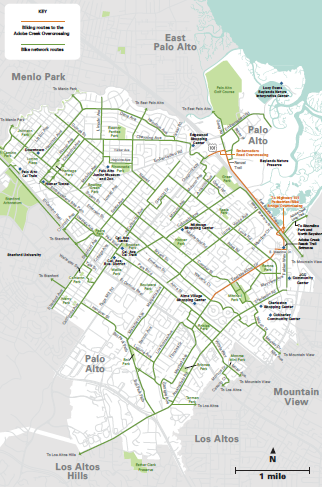 This group, organized through SVBC, rode from City Hall to the bridge opening.